According to
Manhunt
, a social networking website that facilitates same-sex casual sex, New Year's Day is the busiest day for red-hot, soul destroying, man-on-man, anonymous, steamy, impersonal, oral and anal sodomy with strangers. In fact, it has now been declared
"National Hook-Up Day!"
Makes sense if you think about it. I mean, everybody is off work and no body has any plans. After a nice party the night before, all the boys are primed for more sizzling action the next day.
As for me, I'm afraid I'll have to miss out on all the torrid, slippery fun, as I will be hearing the Mass of the Circumcision of the Lord at Saint John Cantius parish.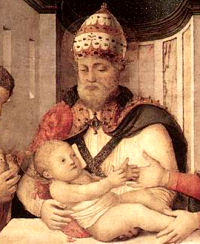 Don't you just hate it when you have two fun things to do on the same day and can only choose one?